Albanian spinach pie is a savory dish made with flaky baked phyllo dough layers filled with spinach, feta cheese, eggs and herbs for flavor. Byrek is traditionally made with several phyllo dough sheets that have been thinly rolled out by hand. It can also be made with ready made pre-rolled phyllo pastry sheets.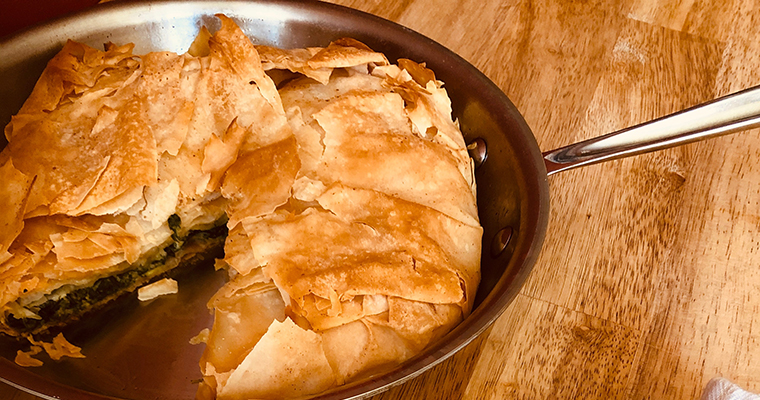 Prep Time15 mins
Cook Time45 mins
Total Time1 hr
20
oz
frozen spinach leaves
thawed and squeezed dry
1
cup
feta cheese
crumbled
1
bunch green onions
chopped
1
tbsp
dill
chopped finely
½
cup
olive oil mixed with melted butter
for brushing phyllo sheets in between
7
sheets of ready made pre-rolled phyllo pastry sheets
or homemade phyllo dough sheets
2
Lightly oil a 10-11 inch baking pan or skillet.
3
Add spinach to a bowl and season with salt and black pepper. Stir in feta cheese, 1 tablespoon olive oil, spring onion and eggs and mix well.
4
Place 6-7 phyllo pastry sheets one by one crisscross covering and tucking with your fingers all around the skillet or pie dish. Most of the phyllo pastry sheets should be hanging outside the pie dish. Brush lightly with oil between each layer. For homemade phyllo dough sheets see my phyllo dough recipe.
5
Spread the spinach filling evenly inside the phyllo lined pie dish. Fold the overhanging phyllo on the top to cover the spinach filling. While covering the filling brush with oil every phyllo layer.
6
Brush the top phyllo dough with butter.
7
Bake the spinach pie for 35-40 minutes, or until the top crust is golden brown.
8
Let it sit for 5 minutes prior serving.