Cooking oven baked Chicken and Rice in a ovenproof dish will allow you to easily move it from stove-top to oven. In this recipe I am using Le Creuset cast iron Dutch oven pot (12 inch wide).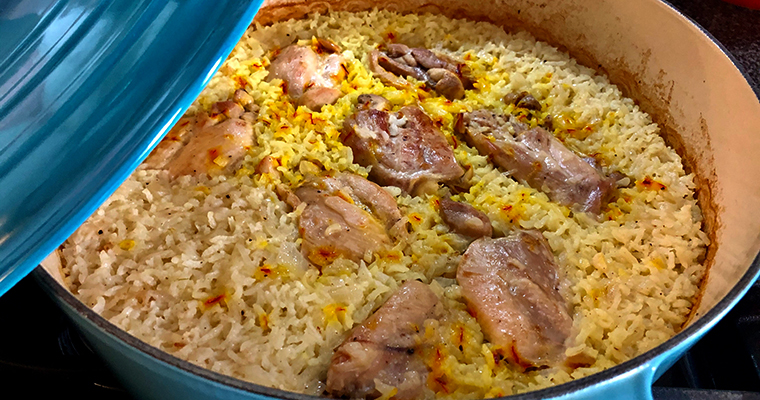 Prep Time15 mins
Cook Time45 mins
Total Time1 hr
3
lbs
chicken
divided in portions
2
cups
white rice
long-grain
1
Preheat oven to 350° F (175° C).
2
Wash the chicken with cold water and cut in portions.
3
Rinse the rice thoroughly before use by using a strainer to remove the starch.
4
In a large deep skillet melt butter with olive oil. Season chicken with a pinch of salt and pepper and sauté until brown on all sides. Remove chicken and set aside.
5
In the same skillet add onion and sauté in medium-low heat until golden and soft in texture. Add the rice and cook and stir until lightly toasted.
6
Transfer chicken and rice mixture in a small baking dish. Pour hot water and spread the mixture and chicken evenly along the bottom of the baking dish. Season with salt, black pepper and pinch of saffron (saffron optional). Cover the baking dish tightly with aluminum foil and bake in preheated oven for 35 minutes.
7
Remove from oven and allow to rest for 10 minutes. Uncover and fluff with a fork to separate grain of rice.