Yogurt Sauce with Cucumber and Dill (Tarator) is a refreshing side dish or appetizer which is very popular in Albania during the summer time. Each Balkan country has different way of making it with almost the same ingredients. In Albania is called Tarator, in Greece the name is Tzatziki and Cacik in Turkey. This recipe is smooth, refreshing and if you love yogurt as I do you are up for something very Mediterranean.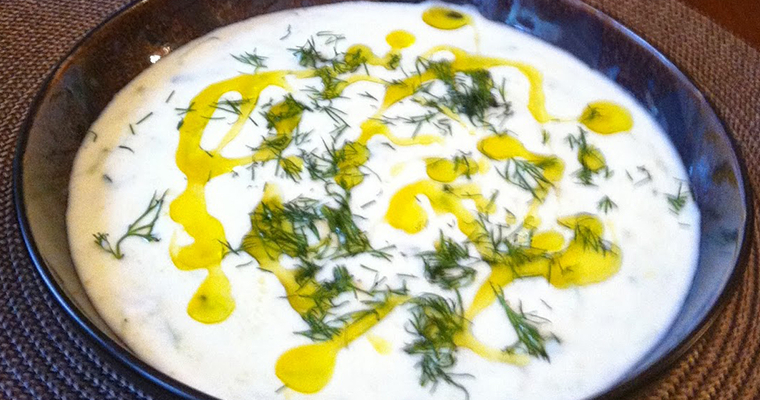 1
medium cucumber
unpeeled finely grated, the cucumber has to be seeded before grated
2
garlic cloves
pressed or mashed
2
tbsp
extra virgin olive oil
1
In a bowl mix cucumbers, garlic, sea salt olive oil and vinegar. In the absence of cucumbers thick sliced fried zucchini can be used along with chopped fried or roasted red peppers with the skin peeled off.
2
Meanwhile in a separate bowl thin the yogurt with cold water not to thin but not to thick. Personally, I like it more on the thicker side. You can also use your own homemade yogurt.
3
At this point pour in the mixture from the first bowl and mix them all together.
4
Serve in small bowls and drizzle 2 teaspoons of olive oil.
5
Lastly, garnish with fresh chopped dill. Put in the refrigerator for half an hour to an hour to chill.
6
This can be paired with grilled fish or meats and vegetables. Enjoy!