When using lamb, you can cook okra together at the same time. When using beef, boil the meat first then add all ingredients. After add the okra at the end and cook for 20 minutes. Never use chopped okra for stew. Also when using frozen okra there is no need to soak them, only to clean the end tip of them.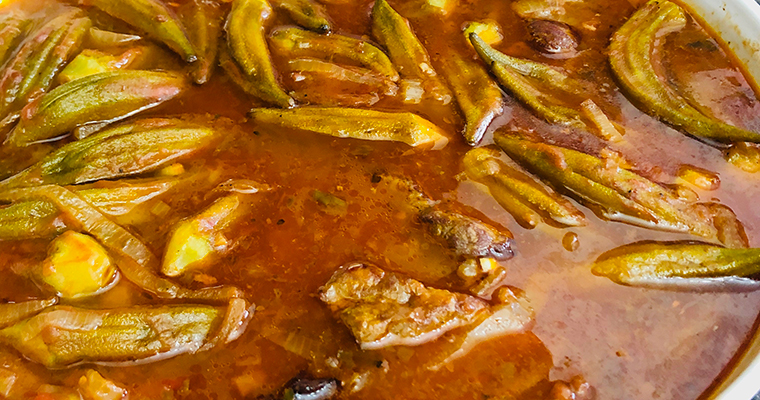 Prep Time30 mins
Cook Time1 hr 10 mins
Total Time1 hr 40 mins
1
lb
beef
or lamb, stew meat
1
onion
large, sliced thinly
2
cups
crushed tomatoes
16 oz can
2
tbsp
parsley
finely chopped
1
tsp
black pepper
to taste
Okra Preparation
2
Trim the stem ends with a pairing knife.
3
Soak them in red vinegar and salt water for 30 minutes.
4
Rinse and pat the okra dry.
5
Heat olive oil in a pot over medium-high heat until it shimmers. Sear meat on all sides until brown.
6
Add the onion and sauté for 6-7 minutes or until soft, on last 30 seconds add garlic.
7
Add in chopped tomatoes, cumin, bay leaves and season with salt and pepper. Pour water until meat is almost covered. Bring to a boil and reduce heat to simmer for about 10 minutes.
8
Pour the meat and sauce on a oven proof baking dish. Cover and bake for about 40 minutes.
9
Remove the stew from the oven and arrange the okra on the top mixing it with the sauce. Cover again and return to oven. Bake for 20 more minutes longer. Add warm water if the mixture seems to dry.
10
Check for seasoning and garnish with chopped parsley.