No Knead Bread (Bukë e Thjeshtë)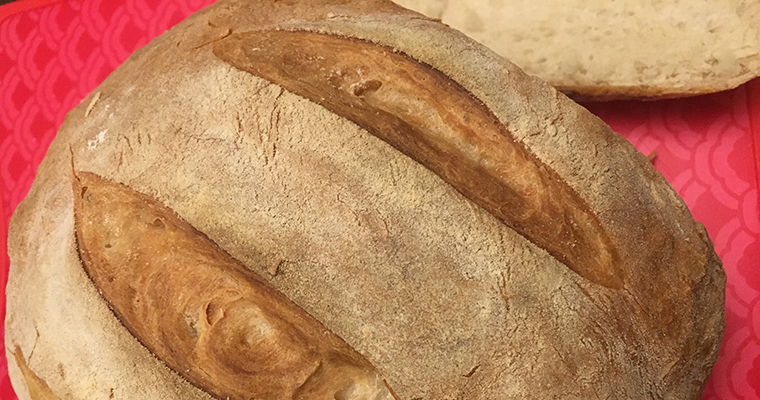 Prep Time4 hrs 25 mins
Cook Time45 mins
Total Time5 hrs 10 mins
1
In a large bowl combine the dry ingredients: flour, salt, yeast. Mix well before pouring water. Stir warm water and mix with spatula until it all comes together and is well incorporated. The dough will be very sticky. Cover tight with plastic wrap or container cover and let stand in room temperature for 45 minutes or until it doubles in size.
2
After 45 minutes the yeast has done the work, the dough is fermented. Strech and fold the dough every 30 minutes for couple times. Make sure to cover the bowl tight after every time you stretch and fold the dough. After couple times stretching and folding the dough , scrape it out of the bowl with spatula onto floured surface. With well floured dust the dough generously with flour, lift it up and form a ball in your hands.
3
Meanwhile, adjust the rack in the middle and preheat oven at 450 degrees Fahrenheit.
4
After 45 minutes, place the dough in the preheat oven. Score the top of the dough with a sharp knife or scissors. Bake covered for 30 minutes then 15 minutes uncovered. Also this bread dough can be baked on a iron cast pot. Preheat the pot while the dough is rising for the second time.