Albanian vegetable stew, thick, rich and creamy is a colorful satisfying meal that you can make it in any season. There are many individual variations in Mediterranean dish, but all feature summer vegetables like eggplants, zucchini, butternut squash, string beans, tomatoes, peppers, carrots, onion, garlic and basil. In Albania vegetable stew is called Gjelle Turli, in southern Italy Ciambotta and France it is called Ratatouille.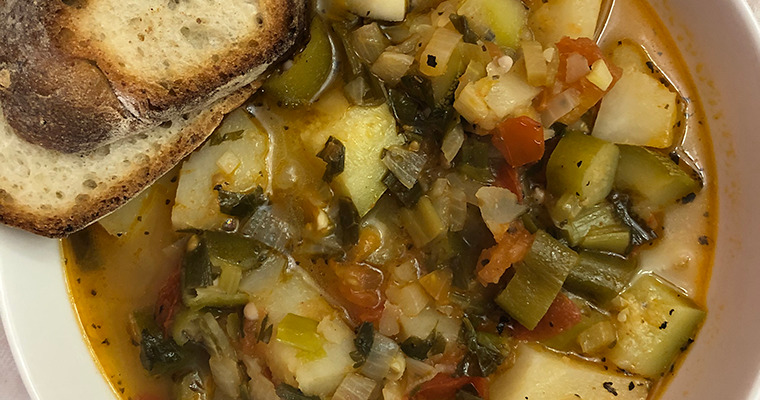 Prep Time10 mins
Cook Time35 mins
Total Time45 mins
3
large tomatoes
chopped or 1 cup of Rao's Marinara Sauce
2
zucchini
ends removed and cubed
2
tbsp
basil leaves
roughly chopped
2
tbsp
parsley
roughly chopped
1
tsp
red pepper flakes
crushed
water
or vegetable broth as needed
1
First washed all vegetable and dice in 1 inch cubes.
2
Heat olive oil in a Dutch oven or heavy bottom pot on medium high heat until it shimmers.
3
Add onions, spring onion, celery and cook stirring frequently for 4 minutes or until soft.
4
Add basil, parsley, crushed red pepper flakes, and sauté for 30 seconds until fragrant.
5
Stir in tomatoes, potatoes, zucchini and cook stirring occasionally for 5 minutes until vegetables are cooked down.
6
At the end add okras and season with salt, pepper and thyme. Okra could be replaced with peas or string beans if desired. Pour enough water or vegetable broth for more flavor until the vegetables are almost covered. Bring to a boil over medium heat than reduce heat to low. Cover the pot and simmer for 35 minutes, stirring occasionally until vegetables are tender and the stew is thick and creamy.
7
Taste and season with salt and pepper if desired.