Soda bread or kulaç is a type of quick bread traditionally made in Albania. It is usually made from flour, baking soda, salt, milk, oil and eggs. Traditionally Albanian soda bread or kulaç is mostly used to make stuffing for turkey on New Year Eve.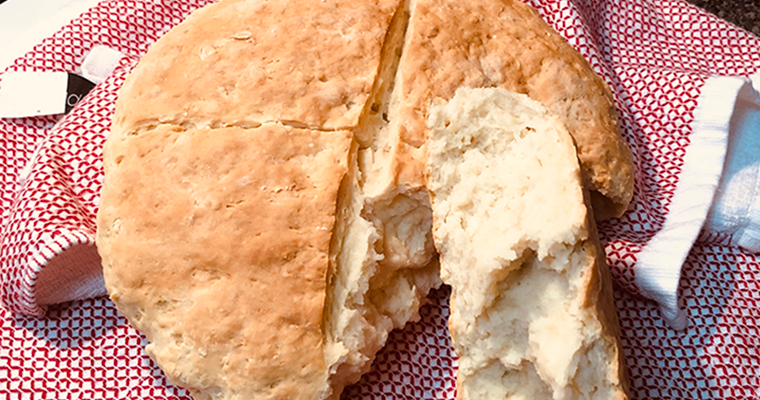 Prep Time20 mins
Cook Time2 hrs
Total Time2 hrs 20 mins
3
tsp
baking powder
double acting
1
cup
plain yogurt
or plain drinkable yogurt
1
Preheat oven to 400° F. Adjust the oven rack in the middle. Brush a 9 inch baking pan or heavy bottom skillet with oil.
2
In a large bowl, mix together the dry ingredients: flour, salt and baking powder. Whisk the egg, yogurt and oil and pour the mixture into the dry ingredients. Then add the water.
3
Knead by hand until all ingredients are incorporated. Turn the dough out onto a lightly floured surface and knead for about 3 minutes minutes. If the dough is to sticky add a little more flour, if too dry add a little warm water. Knead the dough until it has a smooth surface. Allow the dough to rest for 15 minutes more or less, covered with a damp towel or lid.
4
Using your hand flatten the dough into a round shape, about 1 inch thick. Transfer this into the oiled ovenproof baking pan or skillet. With a fork prick the top surface of the dough thoroughly before baking or score an x not to deep with a knife.
5
Bake in preheated oven for around 40 minutes. Then remove the kulaç from the oven when it reaches a reddish brown color. Allow the kulaç to cool down in a cooling rack for about 15 minutes.