Rabbit and Onion Casserole (Comlek Lepuri)
Ingredients:
1 whole rabbit cut in pieces or 6 rabbit legs
2 lb onions, roughly sliced in big wedges (big onions chop in 4 pieces)
2 cups water
3-4 fresh tomatoes chopped
1 cup white wine or 1/4 cup balsamic vinegar
3 bay leaves
1 spring rosemary
1 spring thyme
1 small cinnamon stick
5 garlic cloves chopped
4-5 tbsp olive oil
1 tbsp butter
salt and pepper to taste
Preparation
Wash the rabbit pieces well, then pat dry, put in a bowl with bay leaves and pour over vinegar. Cover and set aside to marinate for at least 1 hour in the fridge.
Preheat oven 370/380 F. Season the rabbit with salt and pepper. Melt the butter with 2 tbsp olive oil in a large heavy bottom pan. Brown the rabbit on all sides in medium-high heat. If all of them do not fit in one pan, you can fry them in batches. Remove rabbit from the pan and set aside. On the same pan add the remaining oil, onions and garlic, stir them occasionally until golden about 15 minutes. Pour white wine to de-glaze, let simmer for up to 4 minutes until it evaporates. Return the rabbit pieces to the pan. Add tomatoes, rosemary, thyme, cinnamon stick, bay leaves, salt, pepper and water. Let it reach the boiling point then transfer the content in a deep casserole dish. Cover tightly with foil and cook in the preheated oven for about 3-4 hours, until the liquid is thickened and meat falls of the bone. Serve with crusty bread or rice.
Note: This recipe is cooked with baby onions or pearl onions also.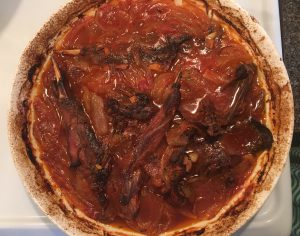 ---
---