Stuffed Eggplants with Onion and Garlic (Patllixhan me Qepë dhe Hudhra)
Level: Medium
Serving: 4 people
Ingredients
6 baby eggplants
3 tomatoes chopped in small cubes
1 cup canola oil for frying eggplants
6 cloves of garlic, minced
3 onions sliced finely in semi circle
1/2 pepper
7 tbsp olive oil
3 tbsp of parsley
1 tbsp salt
1 tsp vinegar
1/4 cup water
Preparation:
Peel the skin of the eggplants on top and the sides, leaving the bottom intact. Make a cut through the top of the eggplant lengthwise deep up to the middle (see pictures). Soak the eggplants for half hour in a large bowl with cold water and 2 tbsp of salt. Fill with water until eggplants are covered. Rinse and let drain in a colander. Then lightly fry the eggplants with oil as much as needed until brown all around and put them aside.
Stuffing:
Meanwhile in a deep frying pan with olive oil, saute onions until translucent or light golden for about 6-7 minutes in low-heat. Then add garlic and continue to saute for while 30 sec. Then add tomato, salt, pepper, parsley, water and vinegar. Let it simmer until it renders down. Place the fried eggplants in a baking pan next to each other. Fill the eggplants with the stuffing with a small spoon in the opening we made lengthwise. If you have leftover stuffing pour it around the eggplants and add 1 cup water on the baking pan. Bake in a preheated oven at 370 degrees F for 20-35 minutes. The time depends on the type of baking pan (metal or stone ware).
Note: Soaking the eggplants in salt water, draws out the compound that makes them bitter. When buying the eggplants look for smooth and shiny skin and no wrinkles or blemishes on them. Before baking I prefer to put slices of garlic on top of each eggplant.
Before Baking & After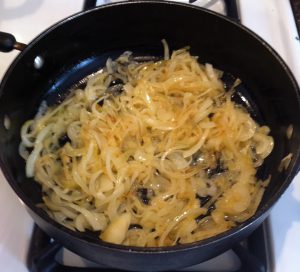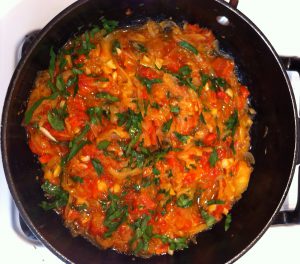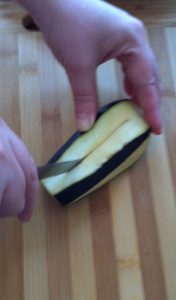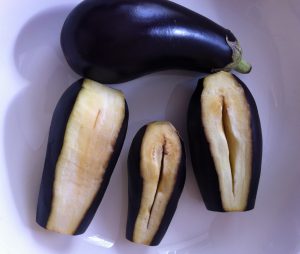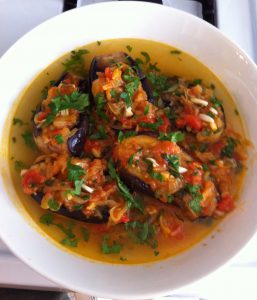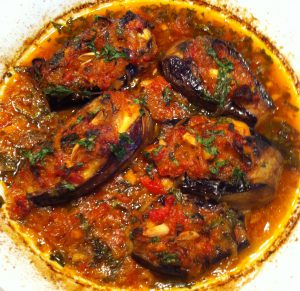 ---
---