Oven Baked Fish (Peshk në Furrë)
I have made this dish so many time, it's so easy and very simple. I am using Sea Bass or as it's called in Mediterranean Branzino fish. This fish will be very moist and flavorful, if you leave the head and the bone in.
Level: Easy
Serving: 2
Ingredients
2 medium whole Branzino fish or (sea bass) gutted and cleaned
2 lemons, thinly sliced
2 sprigs of rosemary
2 sprigs, of flat-leaf parley
1 teaspoon dry thyme
coarse salt as needed
black pepper
extra virgin olive oil
Preparation
Preheat the oven at 425 degrees F. Rinse the fish with cold water and pat dry. Then place the fish on a lightly oiled baking pan. Lightly rub with olive oil and season with sea salt, pepper and thyme inside out. Then inside the cavity arrange parsley, rosemary and sliced lemons (3-4 slices for each fish). Bake uncovered for 15-20 minutes. Then place the pan in the broil for 2 more minutes to crisp the skin. Remove from oven and drizzle with olive oil and finish with squeeze of lemon.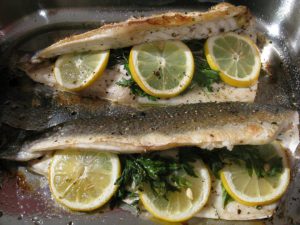 ---
---