Albanian Pie with Onion and Tomatoes (Burek me Qepë dhe Domate)
Ingredients
For filling:
2 lb tomatoes, chopped
4 medium onions, chopped
4-5 tbsp olive oil
1 tsp mint
salt and pepper to taste
For the filo dough:
11/2 cup all purpose flour
1 tsp salt
1 cup warm water
Preparation
Filling – Heat olive oil in a large wide skillet on medium heat. Add chopped onions and stir to coat. Reduce heat to medium low and cook until onions are softened and golden color. Season with salt, pepper and mint to taste. Add chopped tomatoes and bring to low simmer. Reduce heat to low and cook, uncovered until thickened for about 15-20 minutes. Remove from heat until cool.
Filo dough: Combine all ingredients in a large bowl and mix by hand until it hold together. On a lightly floured surface knead the dough by hand until you have a soft and smooth consistency. From the dough prepared, make layers or filo by using rolling pin.
Brush with olive oil baking pan. Place 6 or 7 layers from the dough. Brush each layer with olive oil. Pour the filling and place the remaining layers or filo on the top. Flip the edges of the filo. Brush generously with olive oil all around. Bake at 400 Fahrenheit for 45-50 minutes. After removing from heat sprinkle some water and cover with cloth for softer burek. Serve warm.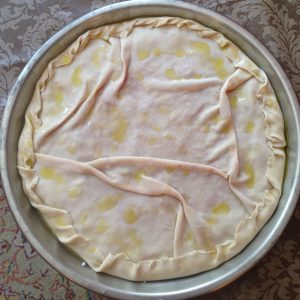 ---
---